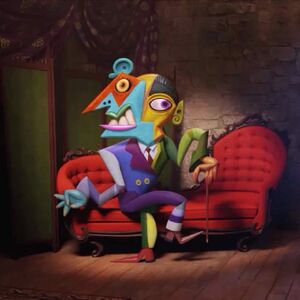 Todd
is one of the minor characters from
Hotel Transylvania 2
. He was seen when
Dracula
was painting a portrait of him.
Hotel Transylvania 2Edit
In the film, Dracula is seen making a seemingly abstract painting. When Mavis and Johnny walk into the room, Dracula calls Todd - who is now seen behind the canvas - that he can take a rest; it turns out that it is his portrait. Todd then leaves the sofa and Dracula hides his work and starts to ask what Mavis is up to.
Ad blocker interference detected!
Wikia is a free-to-use site that makes money from advertising. We have a modified experience for viewers using ad blockers

Wikia is not accessible if you've made further modifications. Remove the custom ad blocker rule(s) and the page will load as expected.