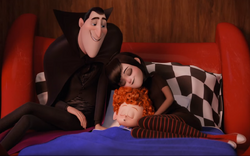 Suffer Suffer Scream In Pain is a lullaby song Dracula and Mavis sang to put Dennis to sleep.
Suffer, suffer scream in pain
Blood is spilling from your brain.
Zombies gnaw you like a plum
Piercing cries and you succumb.
Suffer, suffer, scream in pain
You will never breathe again.
It is a "monster" parody version of Twinkle, Twinkle, Little Star.
As implied in the film, it was sang to her when Mavis was little; the lullaby is still effective to Dennis and her.
Ad blocker interference detected!
Wikia is a free-to-use site that makes money from advertising. We have a modified experience for viewers using ad blockers

Wikia is not accessible if you've made further modifications. Remove the custom ad blocker rule(s) and the page will load as expected.