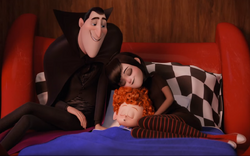 Suffer Suffer Scream In Pain is a lullaby song Dracula and Mavis sang to put Dennis to sleep.
Lyrics
Suffer, suffer scream in pain
Blood is spilling from your brain.
Zombies gnaw you like a plum
Piercing cries and you succumb.
Trivia
It is a "monster" parody version of Twinkle, Twinkle, Little Star.
As implied in the film, it was sang to her when Mavis was little; the lullaby is still effective to Dennis and her.
Videos