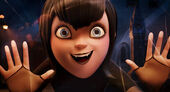 Featured Article
Suffer Suffer Scream In Pain
is the
Featured Article
of April, this means it was voted as one of the best articles on this wiki. Visit the
Front Page
to vote for next month's Featured Article!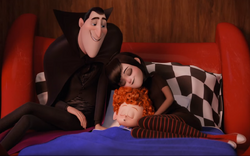 Suffer Suffer Scream In Pain is a lullaby song Dracula and Mavis sang to put Dennis to sleep.
Suffer, suffer scream in pain
Blood is spilling from your brain.
Zombies gnaw you like a plum
Piercing cries and you succumb.
Suffer, suffer, scream in pain
You will never breathe again!
It is a "monster" parody version of Twinkle, Twinkle, Little Star.
As implied in the film, it was sang to her when Mavis was little; the lullaby is still effective to Dennis and her.