(Wife Skeleton) : Ahhhhhh !!! What Happening ?
(dracula) : Im territobly Sorry, My Mistake.
(Husband Skeleton) "What is wrong with you people !?!?" (Slap Dracula with a Washcloth)
-husband skeloton after Jonathan and Drac peek at his wife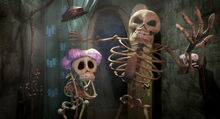 Skeletons are the monsters that appeared in Hotel Transylvania and Hotel Transylvania 2. A family of skeletons also appeared in the mini-short, Puppy!