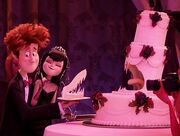 Screaming Cake is one of the food that is served at Mavis and Johnny's wedding.
Just like the Scream Cheese, the cake scream constantly, and even if when it is cut, the separate slices can jump out from the plate and scream to the direction the cake is at, which horrifies many of Johnny's human relatives in the wedding.
Ad blocker interference detected!
Wikia is a free-to-use site that makes money from advertising. We have a modified experience for viewers using ad blockers

Wikia is not accessible if you've made further modifications. Remove the custom ad blocker rule(s) and the page will load as expected.