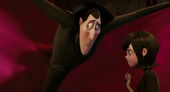 Attention
This page contains information about unreleased content. Do not add to this page, unless you have a valid source.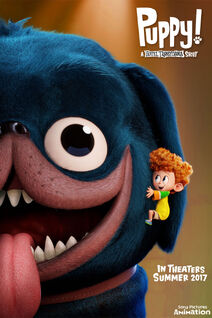 Puppy! is an animated short directed by Genndy Tartakovsky. The short will play alongside The Emoji Movie on July 28.[1]
Dennis asks his mom and dad, Mavis and Johnny, to allow him to get a pet puppy. Mavis and Johnny however, tell him they do not want to look after a pet. Saddened Dennis goes to his grandfather Dracula to persuade him to get him a puppy. Unable to say no Dracula agrees and gets Dennis a monster-sized puppy who Dennis quickly falls in love with. However, this new pet may prove to be more than Dracula can handle.
Genndy Tartakovsky was working on this short, Hotel Transylvania 3, and his 5th season of Samurai Jack all at the same time.
References
Edit
Ad blocker interference detected!
Wikia is a free-to-use site that makes money from advertising. We have a modified experience for viewers using ad blockers

Wikia is not accessible if you've made further modifications. Remove the custom ad blocker rule(s) and the page will load as expected.