Melvin James "Mel" Brooks
(Born June 28, 1926) is an American film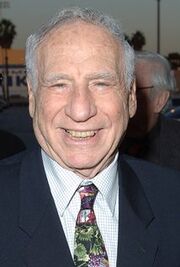 director, screenwriter, comedian, actor ,producer, composer, and songwriter. He is best know for his films and parodies. He began his career as a comic and a writer for the early TV variety show, 
Your Show of Shows
. He became well known as part of the comedy duo with Carl Reiner in the comedy skit, 
The 2000 Year Old Man
. In the 1970's Mel Brooks became one of the most successful film directors of the decade. A couple of his best known films include
Young Frankenstein
and
The Producers. 
He also voiced Bigweld the master inventor, in the 2005 20th Century Fox animated film  Robots, and had a cameo appearance as Albert Einstein, in the 2014 Dreamworks Animation film Mr. Peabody & Sherman.
He voiced Vlad in the 2015 computer-animated comedy film Hotel Transylvania 2.
Ad blocker interference detected!
Wikia is a free-to-use site that makes money from advertising. We have a modified experience for viewers using ad blockers

Wikia is not accessible if you've made further modifications. Remove the custom ad blocker rule(s) and the page will load as expected.