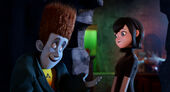 I Never Caught Your Name
The subject of this article has no official name.
Mavis' Shrunken Head is a placeholder name. Please don't try to make up a name until solid evidence can prove it.
Mavis's Shrunken Head is a character from the 2012 computer-animated comedy film Hotel Transylvania. She is the shrunken head that is placed on Mavis's door and is voiced by Luenell Campbell.
"The one that hangs on Mavis's door acts more like a Greek chorus, however, commenting on Dracula's decisions and actions until he and his guilty conscience finally find a way to shut her up," notes Michelle Raimo Kouyate, President of Production, Sony Pictures Animation.
Appearances
Edit