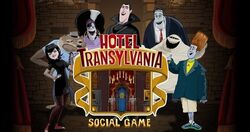 Hotel Transylvania Social Game is a social game based on the film, that was released on July 31, 2012.
Build, decorate, manage and maintain your very own Hotel Transylvania, based on the Sony Pictures Animation film! A host of adorable monsters are eager to escape the stresses of the human-inhabited world. Grow zombies in your hotel's graveyard to create an army of hotel work staff. Kre gifts with friends, and ensure that all your guests rest in peace. Boo!

Characters
Edit
Ad blocker interference detected!
Wikia is a free-to-use site that makes money from advertising. We have a modified experience for viewers using ad blockers

Wikia is not accessible if you've made further modifications. Remove the custom ad blocker rule(s) and the page will load as expected.