Hotel Transylvania 3: Summer Vacation - Official Trailer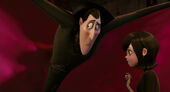 Attention
This page contains information about unreleased content. Do not add to this page, unless you have a valid source.

Hotel Transylvania 3: Summer Vacation is the upcoming sequel to Hotel Transylvania 2. It will be released on July 13, 2018.
Plot
Mavis surprises Dracula with a family voyage on a luxury monster cruise ship, so he can take a vacation from providing everyone else's vacation at the hotel. Dracula's friends cannot resist going along; once they leave port, Dracula meets the mysterious ship captain Ericka. Now it's Mavis' turn to play the overprotective parent, keeping her father and Ericka apart. Little do they know that his "too good to be true" love interest is actually a descendant of Abraham Van Helsing, arch nemesis to Dracula and all other monsters. [1]
Cast
Production
Before the release of Hotel Transylvania 2 there was already talk going around about the possibility of a third film. On November 2, 2015 it was officially announced that Hotel Transylvania 3 would be released in 2018.
It was originally stated that the previous films director, Genndy Tartakovsky, would not be returning to direct the third film. However, on June 20 2016, Genndy confirmed that after a change of mind he would indeed return to direct Hotel Transylvania 3.[3]
On February 6th, 2017 it was announced that the movie would be released on July 13, 2018 instead of September 21st like they had originally planned.[4]
Gallery
Stills
Videos
References