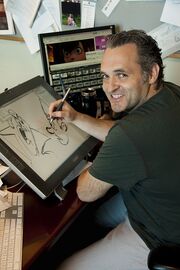 Gennady Borisovich "Genndy" Tartakovsky (Геннадий Борисович Тартаковский) is a Russian-American television animator, director and producer. His best-known creations are Dexter's Laboratory, Samurai Jack, Star Wars: Clone Wars, That 40's Show and Sym-Bionic Titan. He directed the computer animated comedy Hotel Transylvania, which was his animated film debut. He also wrote the uncredited story for the film.
Tartakovsky was born in Moscow, Russia, but moved to Italy, where he became interested in art. He and his family later moved to the United States. He moved to Sony Pictures Animation in early 2011 where he directed Hotel Transylvania, and was set to direct an animated feature film based on Popeye. However this never came to be, so Tartakovsky moved on and returned to direct Hotel Transylvania 2 instead. In July 2012, he also signed a long-term deal with Sony to develop and direct his own original projects.
Shortly after the release of Hotel Transylvania 2 Genndy announced that he would not be returning to direct Hotel Transylvania 3. He said he would be leaving because of other projects he wanted to work on, (Such as the return of his Samurai Jack cartoon) However, he later changed his mind, and announced that he will direct the third installment.
Genndy will also be directing the Hotel Transylvania short, Puppy. The short will air alongside the Emoji Movie this summer.
Ad blocker interference detected!
Wikia is a free-to-use site that makes money from advertising. We have a modified experience for viewers using ad blockers

Wikia is not accessible if you've made further modifications. Remove the custom ad blocker rule(s) and the page will load as expected.