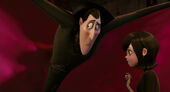 Attention
This page contains information about unreleased content. Do not add to this page, unless you have a valid source.
Ericka Van Helsing is the descendant of Abraham Van Helsing. She works as the captain of a luxury cruise ship and serves as Dracula's love interest in Hotel Transylvania 3.
She is one of the new characters set to appear in Hotel Transylvania 3.